Welcome to Regions Next Step Courses!
Take the next step toward reaching your unique financial goals. These self-paced, interactive courses are designed to help you grow your money management skills and learn how to make smarter, more informed financial decisions. Scroll down to explore all the playlists or click here to start building a personalized playlist.
Get Started
Move Your Life Forward with Regions Next Step
Looking for more tips and tools for reaching your financial goals? Next Step's online collection is full of articles, podcasts, worksheets, calculators and other useful resources to help you break your plans down into manageable and achievable steps.
Learn More
Join us for Financial Wellness Webinars
Expand your financial knowledge with the Next Step Webinars – a collection of action-oriented webinars featuring tips to help you achieve your personal and business goals.
Get Started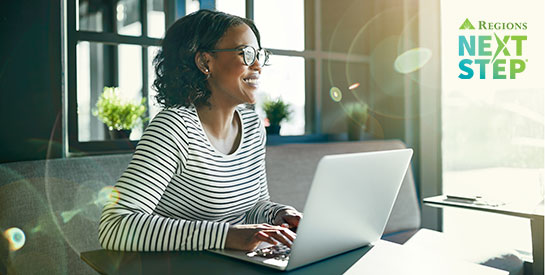 This communication is provided for educational and general marketing purposes only and should not be construed as a recommendation or suggestion as to the advisability of acquiring, holding or disposing of a particular investment, nor should it be construed as a suggestion or indication that the particular investment or investment course of action described herein is appropriate for any specific retirement investor. In providing this communication, Regions is not undertaking to provide impartial investment advice or to give advice in a fiduciary capacity.
This information should not be relied on or interpreted as accounting, financial planning, legal or tax advice. Regions encourages you to consult a professional concerning your specific situation and visit irs.gov for current tax rules.